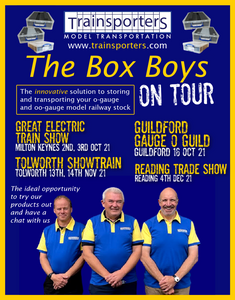 As promised, here's a list of the shows where you'll find us this autumn. These shows are the perfect place to try out our products, have a chat with us about your individual requirements, and of course get to mingle with fellow model railway enthusiasts. Please bear in mind this list is provisional, we'll keep you posted if any of these venues/ dates change. In the meantime, you can head over to our website to find out more: https://trainsporters.com
---

Dear All, It's time for another newsletter from the Box Boys.  It only seems like yesterday since we wrote the last one and a lot of water has passed under our bridge here at Trainsporters since then. In September we celebrate the first anniversary of the website going live and the launch of our business, an interesting experience in the thick of COVID-19!  Before then we had sold a small number of boxes to our fellow club members at the Hillingdon Railway Modellers Club and some to the Guildford O Gauge and Twickenham clubs all were known to us and...
---
The Railex Model Ralway Exhibition will be a virtual show this year, and will take place on Saturday 29th May from 10.00 to 16.30.  The show will feature a selection of zoom sessions from some of the layout owners, as well as demonstration videos, showing 3D printing, laser cutting, DCC techniques. There will also be a display of lockdown models. One of the presentations will be from Peter and Bryan, who will be presenting about the construction of Grindley Brook.  For more information and to access the show, visit: http://www.railex.org.uk 
---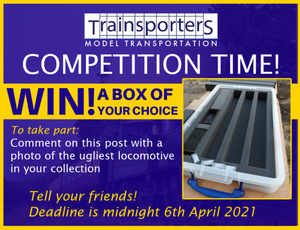 This easter weekend we're running a competition on Facebook - on 1st April at 10am we'll be publishing a post for you to comment on with a photo of the ugliest locomotive in your collection; one that only its engineer could love, or one which rightly deserves to be in a box! Deadline is 23.59 on Monday 5th April 2021. The "Box Boys" - Mark, Carl and Tony - will then decide which locomotive they judge to be the ugliest. Make sure you tell your friends about our competition so they don't miss out. Also, why not give our Facebook page...
---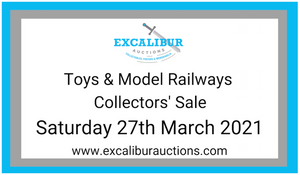 On 27th March, Excalibur Auctions will be holding a virtual Vintage Toys and Model Railways Auction, with some absolutely fantastic lots listed in their catalogue.  When? 27th March, 10:00 AM - 4:30 PM Where? Online event - see the Excalibur Auctions online catalogue for full details of all lots and for online bidding: https://bid.excaliburauctions.com/auctions/7759/excali10040