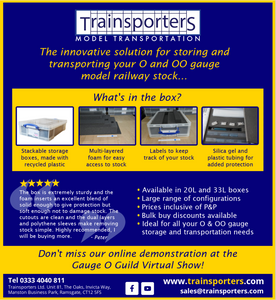 We are delighted to once again be exhibiting at the Gauge O Guild Virtual Show, which will be taking place on Saturday 6th March 2021 09:30-17:00.  We will be giving live demonstrations of our product range and we will also be hosting Q&A sessions at the following times: 11.30 15.00 For more information about the Show, head over to the Gauge O Guild website.  We look forward to seeing you, virtually, on 6th March!     
---

As we ponder the events of 2020 and look forward to 2021, it is difficult to recognize the differences now, compared to this time last year! Here at Trainsporters we have to pinch ourselves to remind us how lucky we have been in starting our new company and the success we have had so far. Our saving grace has been launching our online sales website. Little did we know that when we attended our first exhibition at Kettering in March this year, that would be our last for quite some time. We are still not entirely sure when we will...
---
We are delighted to be exhibiting at the Gauge O Guild's Virtual Trade Show on Saturday 12th December 2020. The show will take place from 09:30 – 16:30 and can be accessed via the Gauge O Guild website: https://www.gaugeoguild.com/  To coincide with the show, this weekend (12th and 13th December) Trainsporters will be offering £5 shipping on all orders.  To take advantage of this offer: For orders of one box, enter discount code GOG4 at checkout For orders of two or more boxes, enter discount code GOG5 at checkout.  Free shipping on all orders over £150 remains unchanged.  Please note discount codes...
---
Please be aware that last orders for delivery in time for Christmas should be placed no later than 20th December. Also, just a heads up that the Reading Gauge O Guild Virtual Show will be taking place on 12th December, more details to follow...
---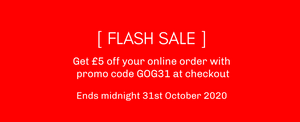 To coincide with the Gauge O Guild Virtual Show, we are offering £5 off all orders when you enter the discount code GOG31 at online checkout.  We've now extended the flash sale and will now end at 11.59pm on Sunday 1st November! Visit our O-Gauge range of boxes HERE Visit our online shop HERE